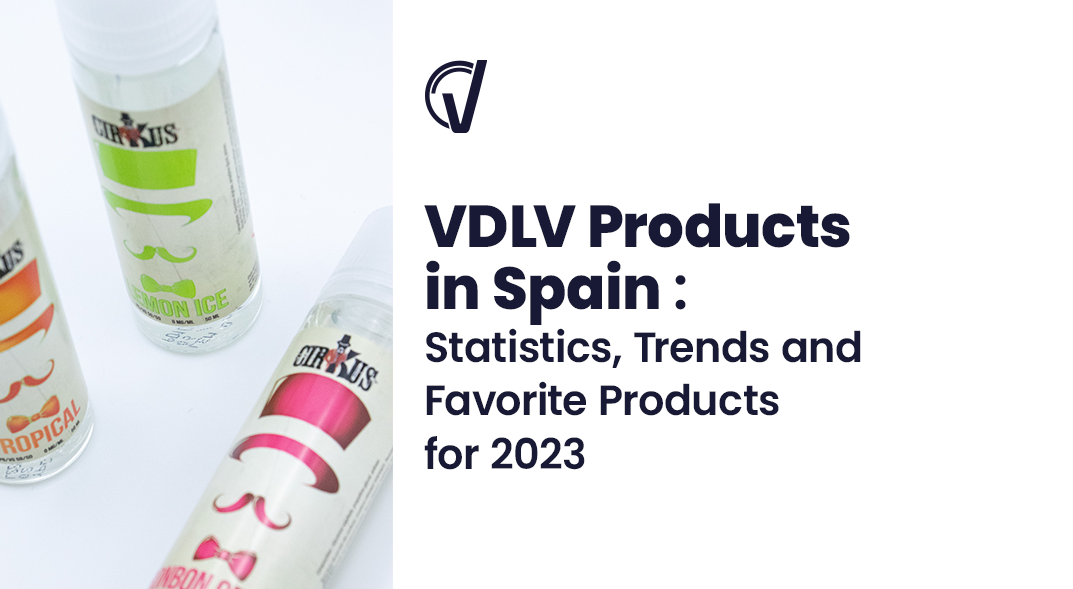 VDLV Products in Spain : Statistics, Trends and Favourite Products for 2023
With the support of our distributors and retailers, VDLV has successfully established a presence in Spain. However, this also entailed some difficulties as we had to adjust to the distinctive characteristics of the Spanish market, the existing regulations and the local vaping trends. We appreciate the cooperation of vaping shops like Vapori.es, who have regularly offered our products and provided us with useful feedback on the most preferred products and flavors. Today, we invited them to share their perspectives on the tastes of Spanish vapers and how our products satisfy their demands. Therefore, if you are intending to visit Spain and you are already acquainted with our brand's products, here is what you can anticipate when you arrive.
Small survey on the Spanish e-cigarette market: How flavors, products and habits differ among users
The vaping market in Spain has undergone remarkable transformations and tendencies lately. Consumers of electronic cigarettes increasingly seek products that match their preferences and requirements; products that offer them a gratifying and agreeable vaping experience. In this regard, we can emphasize some aspects that influence the sector: Fruity flavors are the most favored among Spanish vapers. They offer a sweet and refreshing taste, ideal to cope with the heat and enjoy a pleasant sensation in the mouth. Watermelon, strawberry and peach are some of the most requested flavors, as well as their combinations with other ingredients, such as mint, lemon or ice, to create original and astonishing mixes. Another kind of flavor that succeeds are desserts, such as cakes, cookies or ice cream. Spanish vapers have a predilection for sweet and creamy flavors, which remind them of their favorite desserts and make them feel like they are eating something delectable. Menthol and tobacco flavors have less acceptance, as many vapers aim to distance themselves from the taste of traditional tobacco and try new sensations. However, some consumers prefer these flavors for their intensity and their refreshing or relaxing effect. As for the type of nicotine that e-liquids contain, nicotine salts prevail over free-base nicotine. This is because nicotine salts have a higher bioavailability, that is, they are absorbed faster and better by the body, which produces a sensation closer to that of conventional cigarettes. In addition, nicotine salts allow using higher concentrations without irritating the throat, which is ideal for smokers who want to quit or reduce their consumption. Another reason why nicotine salts are so popular is that they are compatible with reusable pods, which are small and simple devices that work with preloaded or refilling cartridges of e-liquid. These devices are very convenient and practical, as they do not require high maintenance.
Top 3 VDLV products in Spain
Now, let's introduce you to a top 3 VDLV products of high demand and prefference among Spanish vapers:
Cirkus®
CirKus® is a line of e-liquids that has two main ranges: Authentic CirKus and Black CirKus. The Authentic CirKus range features intense and original flavors, such as Peanut Crunch, Blackcurrant Ice, Classic RY4 and Tropical. The Black CirKus range offers complex and gourmet flavors, such as Augustus, The Strong Man, Human Cannonball and The Conjurer. CirKus e-liquids are designed to satisfy different tastes and preferences, from fruity to classic, from fresh to sweet. They are also available in different nicotine strengths and PG/VG ratios, so you can customize your vaping experience. One of the reasons why CirKus e-liquids are so popular among Spanish vapers is because they offer a journey back in time to the atmosphere of circuses of the Belle-Epoque, a period of cultural and artistic flourishing in Europe.
814®
The 814® series is inspired by historical figures and events, such as Charlemagne, Bathilde, or the Carolingian period. Each e-liquid has a unique blend of ingredients that reflects its theme and personality. For example, Charlemagne is a mix of coffee liquor, biscuit, and brown sugar, while Bathilde is a combination of banana, strawberry, pineapple, kiwi and mango. The 814® series is very popular among Spanish vapers because they appreciate the quality and originality of these e-liquids. They also enjoy the rich and smooth vapor production that VDLV guarantees with its high standards of manufacturing and testing.
Vincent Dans Les Vapes® (classic series)
Whether you prefer fruity, floral, minty or classic tobacco flavors, you will find something to suit your taste buds in the classic series of VDLV. Spanish vapers' favorites are the Vanilla and the Cola. The original series is very popular as well because of the natural taste and the smooth throat hit of these e-liquids. Our aim with this article was to enlighten you about the Spanish vaping market, which is experiencing steady growth despite some regulatory hurdles. Spain is an ideal destination for vapers who appreciate our products, as they can easily locate them in numerous vape shops throughout the nation, owing to our collaborations. We are eager to broaden our footprint in Spain and connect with more vapers who aspire to quit smoking and embrace a superior alternative.