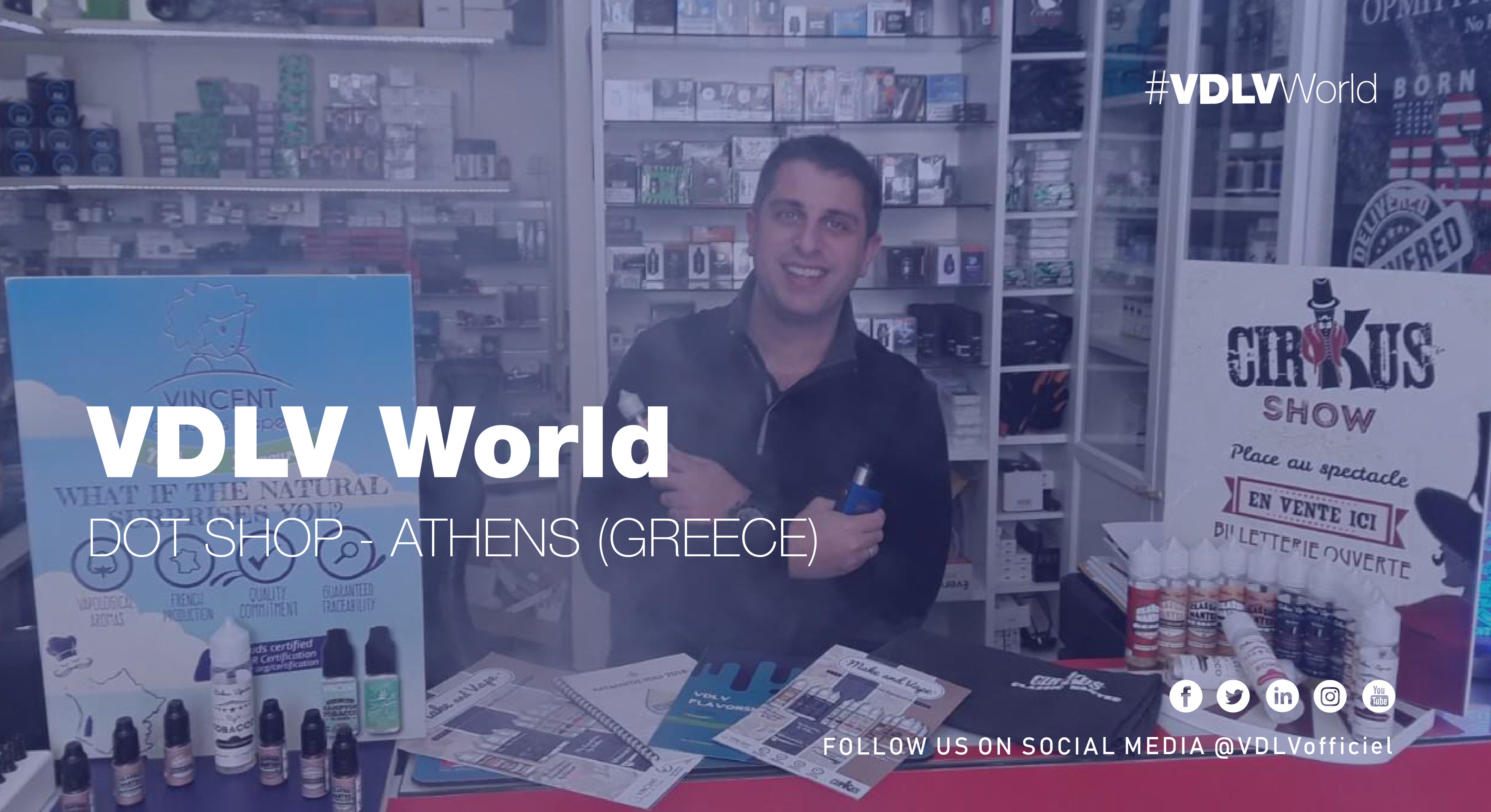 VDLV World – Dot Shop Athens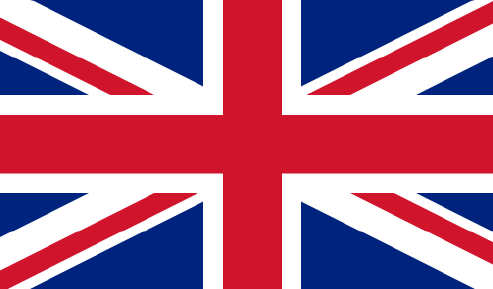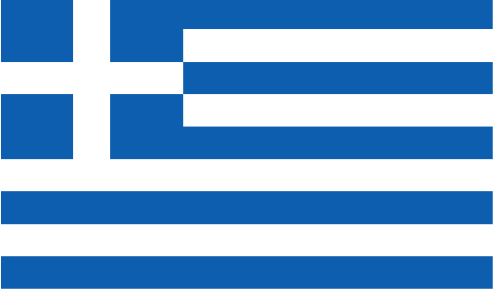 Today, it is our pleasure to introduce you the vape shop Dot Shop directly from the beautiful city of Athens, Greece. PAPAEFTHIMIOU XARIS, shop manager, tells us about his experience selling our brands Vincent dans les Vapes and Cirkus. Follow Dot Shop on Facebook.
Where is your shop located ?  What makes your shop different from the others ?
Dot Shop is located in Varkiza district, Athens, since 2013. Me and Bill, the shop manager, run the business, both retail and e-shop. Our store makes the difference by having excellent support services and a serious variety of products..
What motivated you to open a vape shop ? What did you do before opening the shop ?
The thing that motivated me to get into the vape industry was the fact that vaping has been growing and expanding from day one. Another reason was the fact that people could actually quit smoking. Before, I had worked s a software developer.
What do you think about Vincent dans les Vapes and Cirkus products ? Why did you choose to sell these brands ?
The products have unique flavour combinations and a decent range. The flavors, the choice among flavourshots, 10ml liquid and concentrate flavors and the quality, are definitely the three strongest points of VDLV. We chose the products from the beginning and they continue to make the difference, although we have an enormous amount and variety of products in our market. Also, the profit margin is very good.
What is your favourite flavour or range from Vincent dans les Vapes and Cirkus ? What specific feature do you like the most ? And your customers?
My favourites are Reserve and Gourmet, same for my customers.
Σήμερα, είναι μεγάλη μας χαρά να σας συστήσουμε το κατάστημα προϊόντων ατμίσματος  Dot Shop, κατευθείαν από την όμορφη Αθήνα. Ο ιδιοκτήτης, Χάρης Παπαευθυμίου, μας μιλάει για την εμπειρία του από την πώληση των προϊόντων μας   "Vincent dans les Vapes" and "Cirkus".
ΠΟΥ ΒΡΙΣΚΕΤΑΙ ΤΟ ΜΑΓΑΖΙ ΣΑΣ- ΠΟΤΕ ΑΝΟΙΞΕ-ΠΟΣΟΙ ΕΡΓΑΖΟΜΕΝΟΙ-ΤΙ ΚΑΝΕΙ ΤΟ ΜΑΓΑΖΙ ΣΑΣ ΝΑ ΔΙΑΦΟΡΟΠΟΙΕΙΤΑΙ ΑΠΟ ΤΑ ΥΠΟΛΟΙΠΑ?
ΤΟ ΚΑΤΑΣΤΗΜΑ ΒΡΙΣΚΕΤΑΙ ΣΤΗΝ ΠΕΡΙΟΧΗ ΤΗΣ ΒΑΡΚΙΖΑΣ ΑΠΟ ΤΟ 2013.Ο ΙΔΙΟΚΤΗΤΗΣ ΚΑΙ Ο ΥΠΑΛΛΗΛΟΣ (ΒΑΣΙΛΗΣ) ΕΧΟΥΝ ΤΗΝ ΔΙΑΧΕΙΡΙΣΗ ΤΟΥ ΗΛΕΚΤΡΟΝΙΚΟΥ ΚΑΙ ΦΥΣΙΚΟΥ ΚΑΤΑΣΤΗΜΑΤΟΣ.ΤΑ ΧΑΡΑΚΤΗΡΙΣΤΙΚΑ ΠΟΥ ΤΟΥΣ ΚΑΝΟΥΝ ΝΑ ΔΙΑΦΕΡΟΥΝ ΕΙΝΑΙ Η ΑΡΙΣΤΗ ΕΞΥΠΗΡΕΤΗΣΗ ΚΑΙ Η ΠΟΙΚΙΛΙΑ ΤΩΝ ΠΡΟΙΟΝΤΩΝ ΠΟΥ ΠΑΡΕΧΟΥΝ.
ΤΙ ΣΑΣ ΩΘΗΣΕ ΝΑ ΑΝΟΙΞΕΤΕ ΜΑΓΑΖΙ ΜΕ ΠΡΟΙΟΝΤΑ ΑΤΜΙΣΜΑΤΟΣ? ΠΟΙΟΣ Ο ΤΟΜΕΑΣ ΔΡΑΣΤΗΡΙΟΠΟΙΗΣΗΣ ΣΑΣ ΠΡΙΝ ΝΑ ΑΝΟΙΞΕΤΕ ΤΟ ΚΑΤΑΣΤΗΜΑ?
Ο ΠΑΡΑΓΟΝΤΑΣ ΠΟΥ ΟΔΗΓΗΣΕ ΤΟΝ ΙΔΙΟΚΤΗΤΗ ΝΑ ΑΣΧΟΛΗΘΕΙ ΜΕ ΤΟΝ ΚΛΑΔΟ ΤΟΥ ΑΤΜΙΣΜΑΤΟΣ ΕΙΝΑΙ ΤΟ ΓΕΓΟΝΟΣ ΤΗΣ ΓΡΗΓΟΡΗΣ ΑΝΑΠΤΥΞΗΣ ΤΟΥ ΠΡΟΪΟΝΤΟΣ ΑΠΟ ΤΗΝ ΑΡΧΗ.ΕΝΑΣ ΑΚΟΜΗ ΠΑΡΑΓΟΝΤΑΣ ΗΤΑΝ ΚΑΙ ΟΤΙ ΟΙ ΚΑΠΝΙΣΤΕΣ ΜΠΟΡΟΥΣΑΝ ΕΠΙΤΕΛΟΥΣ ΝΑ ΑΠΑΛΛΑΓΟΥΝ ΑΠΟ ΤΟ ΚΑΠΝΙΣΜΑ.ΠΡΙΝ ΑΣΧΟΛΗΘΕΙ ΜΕ ΤΟΝ ΚΛΑΔΟ, ΔΙΑΤΗΡΟΥΣΕ ΕΠΙΧΕΙΡΗΣΗ ΑΝΑΠΤΥΞΗΣ ΠΡΟΓΡΑΜΜΑΤΩΝ.
ΠΟΙΑ Η ΓΝΩΜΗ ΣΑΣ ΓΙΑ ΤΑ ΠΡΟΙΟΝΤΑ "Vincent dans les Vapes" and "Cirkus"? ΘΑ ΜΠΟΡΟΥΣΑΤΕ ΝΑ ΜΑΣ ΑΝΑΦΕΡΕΤΕ ΤΑ 3 ΔΥΝΑΤΑ ΤΟΥΣ ΣΗΜΕΙΑ?
ΤΑ ΠΡΟΪΟΝΤΑ ΔΙΑΘΕΤΟΥΝ ΜΟΝΑΔΙΚΟ ΣΥΝΔΥΑΣΜΟ ΓΕΥΣΕΩΝ ΚΑΙ ΙΚΑΝΟΠΟΙΗΤΙΚΗ ΓΚΑΜΑ.ΟΙ ΓΕΥΣΕΙΣ, Η ΔΙΑΘΕΣΙΜΟΤΗΤΑ ΣΕ FLAVORSHOT,10ml, ΣΥΜΠΥΚΝΩΜΕΝΩΝ ΑΡΩΜΑΤΩΝ ΚΑΙ Η ΠΟΙΟΤΗΤΑ ΕΙΝΑΙ ΣΙΓΟΥΡΑ ΤΑ ΤΡΙΑ ΔΥΝΑΤΑ ΣΗΜΕΙΑ ΤΗΣ ΕΤΑΙΡΕΙΑΣ.ΕΠΙΛΕΞΑΜΕ ΤΑ ΠΡΟΪΟΝΤΑ ΑΠΟ ΤΗΝ ΑΡΧΗ ΤΗΣ ΛΕΙΤΟΥΡΓΙΑΣ ΜΑΣ ΚΑΙ ΣΥΝΕΧΙΖΟΥΝ ΝΑ ΚΑΝΟΥΝ ΤΗΝ ΔΙΑΦΟΡΑ ,ΠΑΡΟΛΗ ΤΗΝ ΜΕΓΑΛΗ ΠΟΙΚΙΛΙΑ ΠΡΟΪΟΝΤΩΝ ΠΟΥ ΔΙΑΘΕΤΕΙ Η ΑΓΟΡΑ.ΕΠΙΠΛΕΟΝ ΤΟ ΠΕΡΙΘΩΡΙΟ ΚΕΡΔΟΥΣ ΓΙΑ ΤΟΝ ΕΠΙΧΕΙΡΗΜΑΤΙΑ ΕΙΝΑΙ ΑΡΚΕΤΑ ΙΚΑΝΟΠΟΙΗΤΙΚΟ.
ΠΟΙΑ ΕΙΝΑΙ Η ΑΓΑΠΗΜΕΝΗ ΣΑΣ ΓΕΥΣΗ ΑΠΟ ΤΑ "Vincent dans les Vapes" ΚΑΙ"Cirkus"? ΠΟΙΟ ΙΔΙΑΙΤΕΡΟ ΧΑΡΑΚΤΗΡΙΣΤΙΚΟ ΤΟΥΣ ΠΡΟΤΙΜΑΤΕ? ΟΙ ΠΕΛΑΤΕΣ ΣΑΣ?
ΟΙ ΑΓΑΠΗΜΕΝΕΣ ΓΕΥΣΕΙΣ ΤΟΥ ΙΔΙΟΚΤΗΤΗ ΕΙΝΑΙ ΤΟ RESERVE ΚΑΙ GOURMET. ΤΟ ΙΔΙΟ ΚΑΙ ΓΙΑ ΤΟΥΣ ΚΑΤΑΝΑΛΩΤΕΣ.