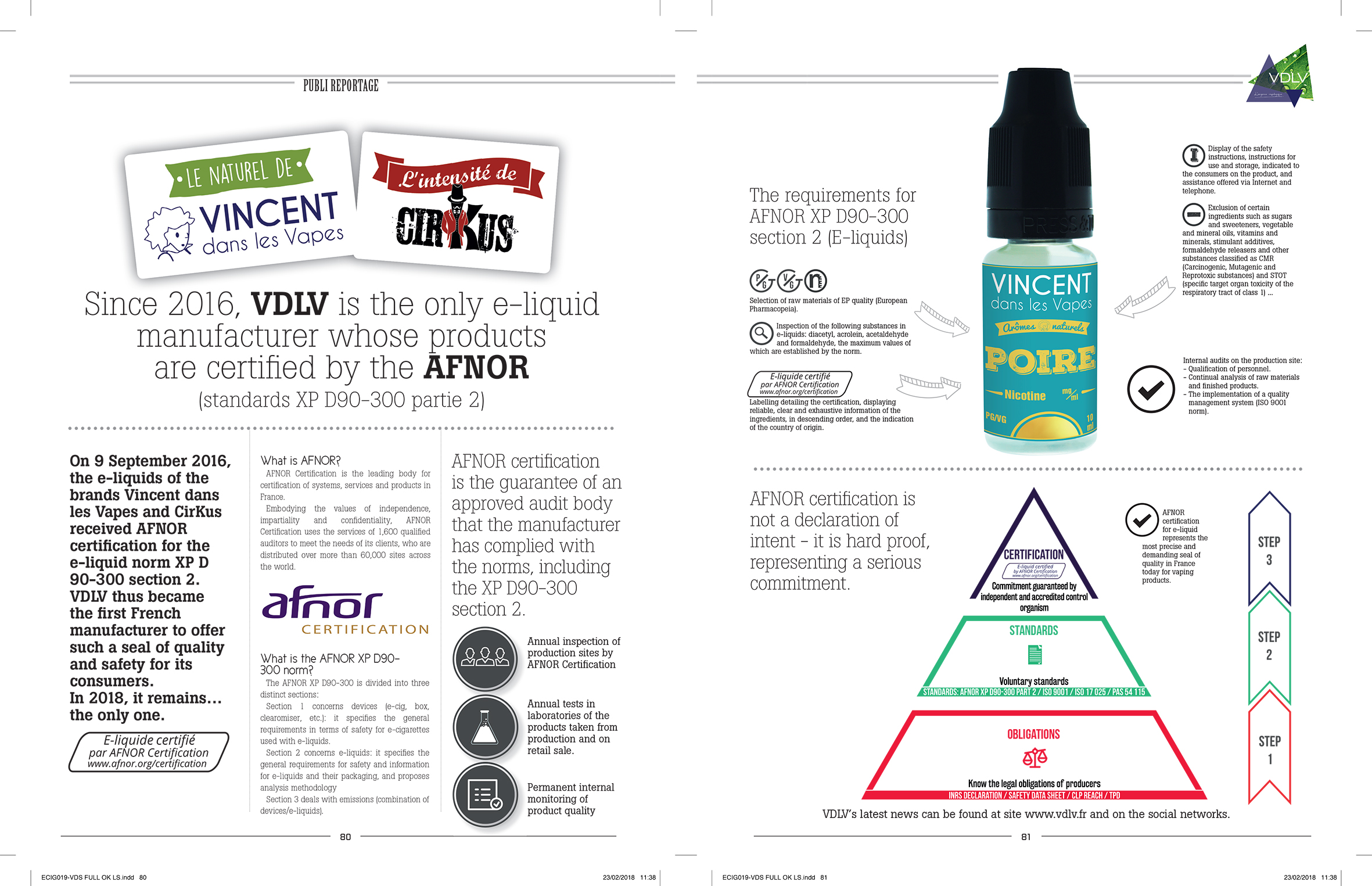 Since 2016, VDLV is the only e-liquid manufacturer whose products are certified by the AFNOR
VDLV is certified by AFNOR since 2016
Press article published in #19 E-Cig Mag : March/April/May 2018
Since 2016, VDLV is the only e-liquid manufacturer whose products are certified by the AFNOR (standards XP D90-300 part 2)
On 9 September 2016, the e-liquids of the brands Vincent dans les Vapes and CirKus received AFNOR certification for the e-liquid norm XP D90-300 section 2. VDLV thus became the first French manufacturer to offer such a seal of quality and safety for its consumers. In 2018, it remains… the only one.
What is AFNOR?
AFNOR Certification is the leading body for certification of systems, services and products in France.
Embodying the values of independence, impartiality and confi dentiality, AFNOR Certification uses the services of 1,600 qualified auditors to meet the needs of its clients, who are distributed over more than 60,000 sites across the world.
What is the AFNOR XP D90-300 norm?
The AFNOR XP D90-300 is divided into three distinct sections:
Part 1 concerns devices (e-cig, box, clearomiser, etc.): it specifies the general requirements in terms of safety for e-cigarettes used with e-liquids.
Part 2 concerns e-liquids: it specifies the general requirements for safety and information for e-liquids and their packaging, and proposes analysis methodology
Part 3 deals with emissions (combination of devices/e-liquids).
AFNOR certification is the guarantee of an approved audit body that the manufacturer has complied with the norms, including the XP D90-300 part 2.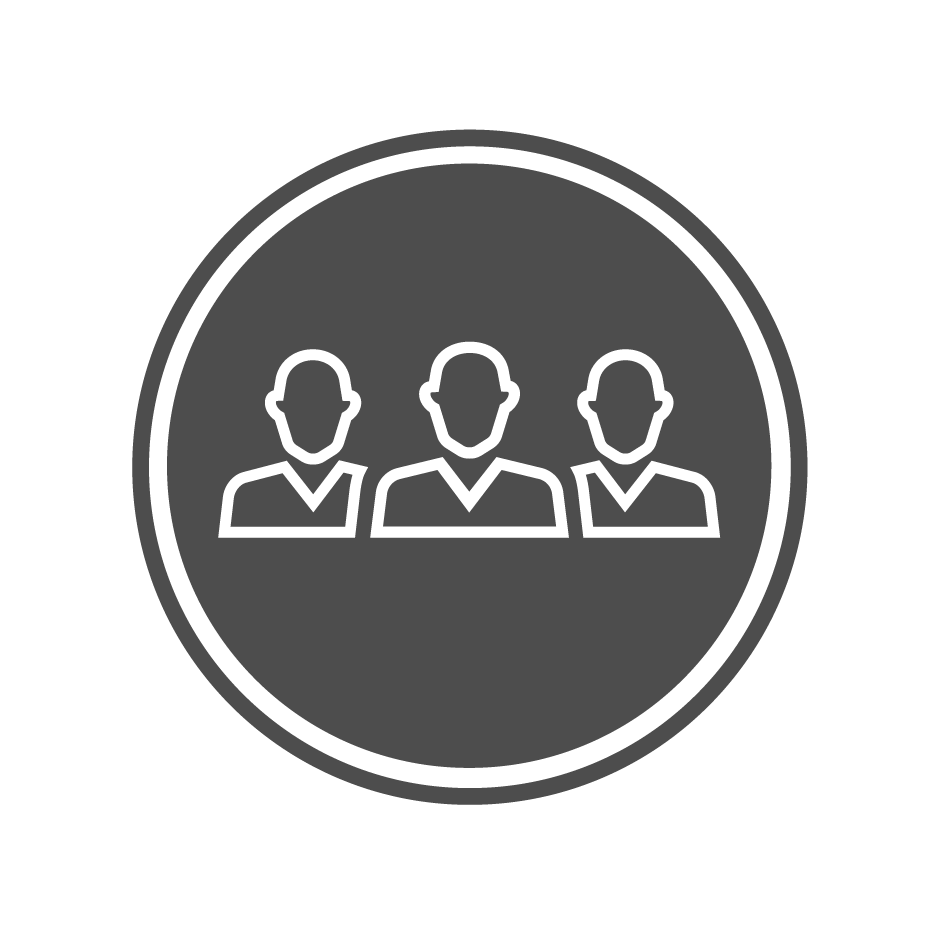 Annual inspection of production sites by AFNOR Certification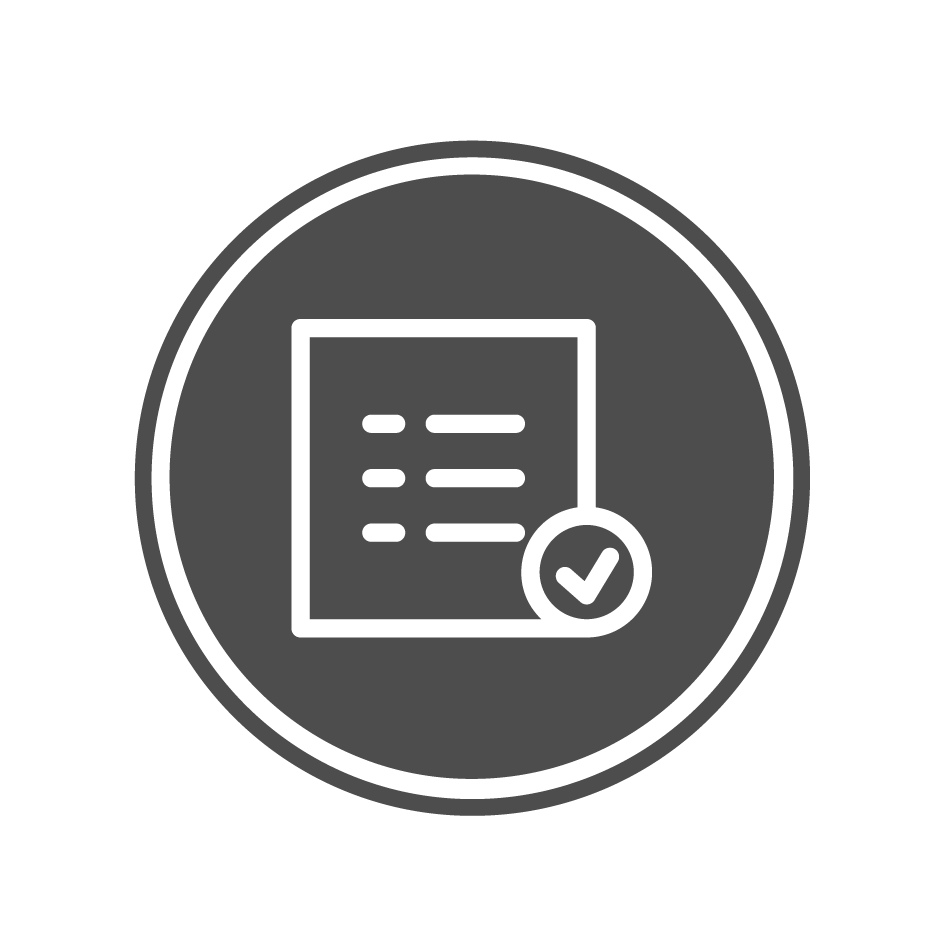 Permanent internal monitoring of product quality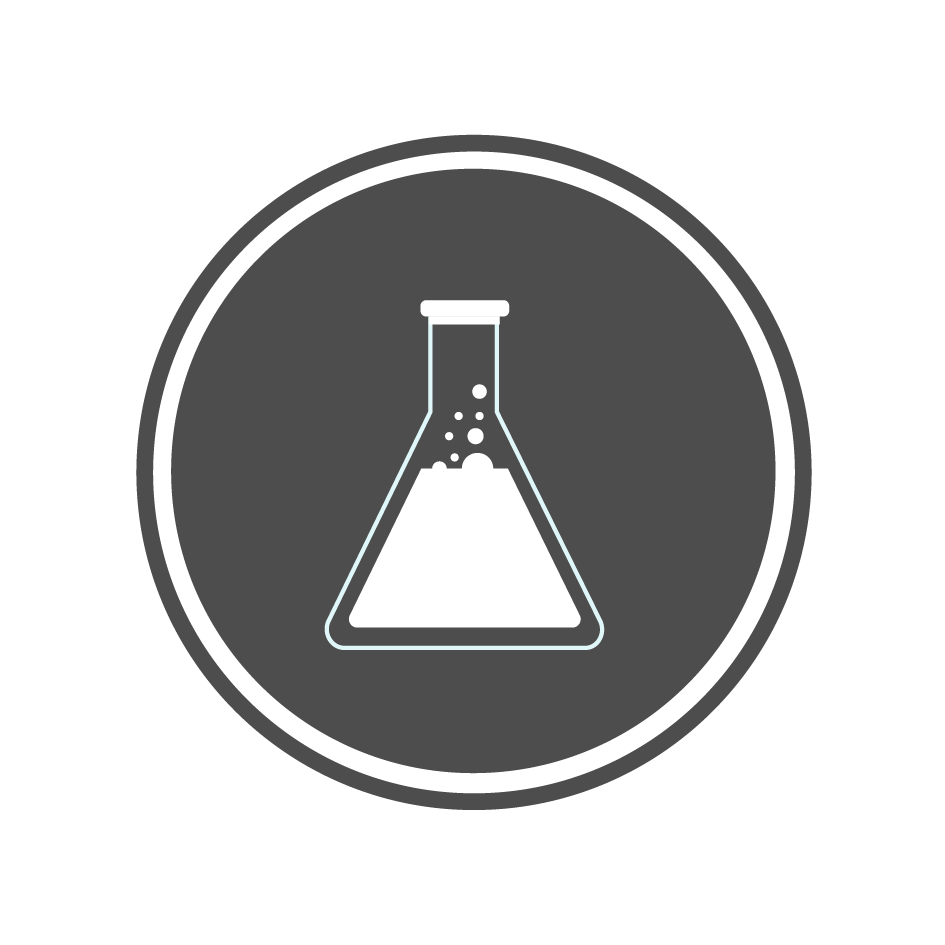 Annual tests in laboratories of the products taken from production and on retail sale.
The requirements for AFNOR XP D90-300 part 2 (E-liquids)
Selection of raw materials of EP quality (European Pharmacopeia).
Inspection of the following substances in e-liquids: diacetyl, acrolein, acetaldehyde and formaldehyde, the maximum values of which are established by the norm.
Labelling detailing the certification, displaying reliable, clear and exhaustive information of the ingredients, in descending order, and the indication of the country of origin.
Display of the safety instructions, instructions for use and storage, indicated to
the consumers on the product and assistance offered via Internet and telephone.
Exclusion of certain ingredients such as sugars and sweeteners, vegetable and mineral oils, vitamins and minerals, stimulant additives, formaldehyde releasers and other substances classifi ed as CMR (Carcinogenic, Mutagenic and Reprotoxic substances) and STOT (specific target organ toxicity of the respiratory tract of class 1) …
Internal audits on the production site:
– Qualification of personnel.
– Continual analysis of raw materials and finished products.
– The implementation of a quality management system (ISO 9001 norm).
AFNOR certification is not a declaration of intent – it is hard proof, representing a serious commitment.