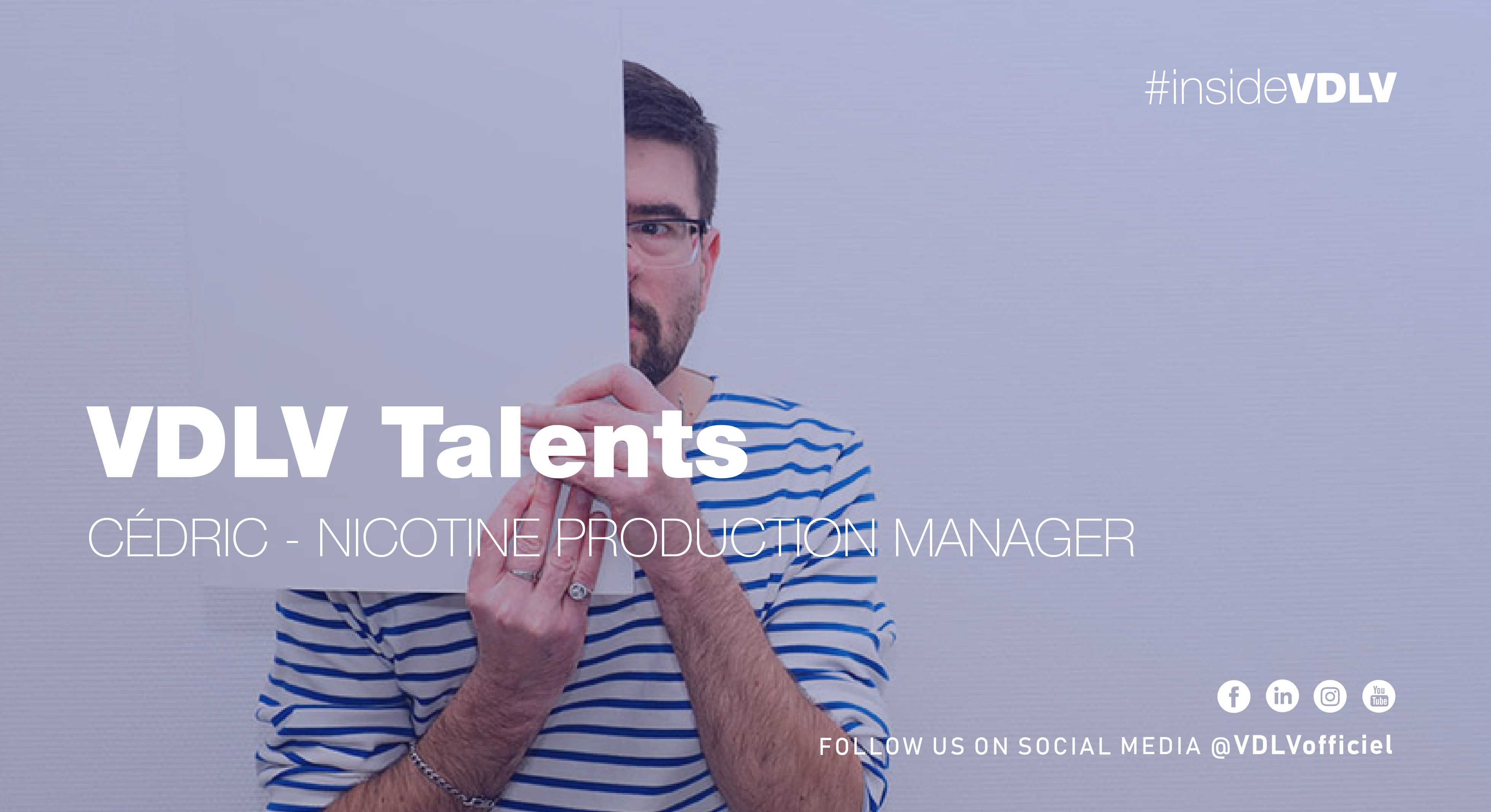 VDLV TALENTS – CEDRIC – Nicotine Production Unit Manager
An integral part of our identity, every single VDLV employee has so much to offer as a result of their unique journey. Through our "VDLV Talents" series we meet those who keep our company going from one day to the next. Today it is the turn of Cedric, the Vapological Nicotine Production Unit Manager, to tell us about his day-to-day work.
WHEN DID YOU START AT VDLV? WHAT IS YOUR EDUCATIONAL BACKGROUND?
I have a diploma in Chemical Engineering and a DEA in Process Engineering and the Environment. I worked in various sectors and various regions of France before packing my suitcase and heading for Gironde. I was an Industrial Instrumentation Consultant, a Food Engineer, a Quality Safety Environment (QSE) Manager within a waste recycling unit, and then an Industry Trainer.
I joined VDLV at the end of 2016 as a Process Engineer and am now the manager of the Vapological Nicotine Unit.
I discovered VDLV through a friend who had completely stopped smoking cigarettes thanks to a vape and Vincent Dans Les Vapes e-liquids. Out of complete curiosity, I researched their activities and discovered that the sector was rapidly evolving. At that time, I was looking for a new professional challenge and VDLV was recruiting an engineer to develop its nicotine production unit. I applied and I got the job!
WHAT DOES YOUR DAY-TO-DAY WORK INVOLVE?
My work mainly consists of ensuring the extraction and then purification of the nicotine that is incorporated into our e-liquids. To do this, I am supported by a team of 3 technicians who develop each stage of the production process; from the arrival of the tobacco leaves, to the departure of the final nicotine. The nicotine is then analysed and must meet purity criteria established by the European Pharmacopoeia.
My work also includes an element of "optimising and evolving the industrial tools" as well as a regulatory watch. We are a classified facility that must meet environmental requirements.
WHAT DO YOU LIKE MOST ABOUT THIS WORK AND THE NICOTINE UNIT IN PARTICULAR?
It's an innovative project that requires a wide range of technical knowledge. This vapological nicotine offers added value, both in terms of product quality, but also as a safety guarantee for the consumer.
In addition, the production unit was designed according to the principles of green chemistry. We use non-hazardous solvents for extraction, we optimise our consumption of water and energy, we favour renewable raw materials and production waste is recycled.
WHAT DOES IT MEAN TO YOU TO WORK WITH LOCAL ACTORS AS IS THE CASE WITH OUR FARMER PARTNERS?
First and foremost, it demonstrates the multitude of business sectors that vaping can help to develop or revive. Secondly, tobacco growing in France is in decline and sometimes suffers from a bad image. The French tobacco project, which is aimed at nicotine extraction, gives this type of farming a new direction. This project is also beneficial to the dynamism of the Nouvelle-Aquitaine region.
It's also about creating close links with partners, demonstrating their involvement, their motivation and the quality of the work carried out.
Finally, it's about ensuring the complete control of the process, from the seed to the finished product, and ensuring French technical and agronomic know-how.
Thanks to this synergy we are the first to produce French nicotine.
Thanks to Cedric for his reponses.